Dental Crowns in Forney, TX
If you're one of the many people suffering from weakened, chipped, worn down, or broken teeth, dental crowns could be the answer for you. They're customized to look, fit, and feel natural, and are a great way to repair your smile and get your oral hygiene back in tip-top shape in no time!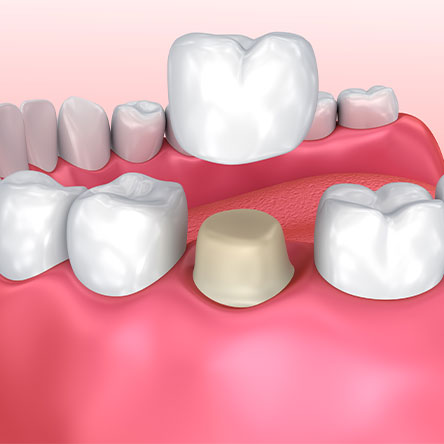 The Breakdown on Dental Crowns
Dental Crowns (otherwise known as caps) are a cost-effective and easy solution for those who suffer from damaged, missing, or discolored teeth. This restorative procedure can get your smile up and running again with all the functionality you had before. Contact us today to schedule a consultation to see if dental crowns are right for you!
Dental Crowns: Your Go-To Solution
A dental crown could be the answer for you if you're experiencing any of the following:
– Mild or Severe Tooth Pain
– Tooth Decay
– Broken Tooth
– Discoloration
– Chipped Tooth

– & More
Don't wait until the pain is too unbearable to come in. If ignored for too long, some symptoms could worsen into something that needs a more intensive or invasive procedure. The quicker we get you in the dental chair, the quicker you get the relief you need!
Don't Let Money Stand In Your Way
If money is preventing you from getting the help you need, you have options. Dental crowns come in a variety of materials such as ceramic, metal, porcelain, and more – each at a different price. During your initial consultation, Dr. Merchant will recommend which type of crown best fits your needs and your budget. We are also in-network with various insurance plans and offer a cash discount. Let's get you the help you deserve.