Invisalign in Forney, TX
Maybe you want to straighten your teeth but you definitely don't want to deal with years in braces. We're happy to tell you there's another option!
Invisalign® is a clear, convenient choice when it comes to orthodontic treatment. It uses a completely different method called aligner therapy to shift teeth, so there are no brackets or wires involved at all. To see if Invisalign is right for you, set up a consultation with Dr. Merchant at LM Family Dentistry today!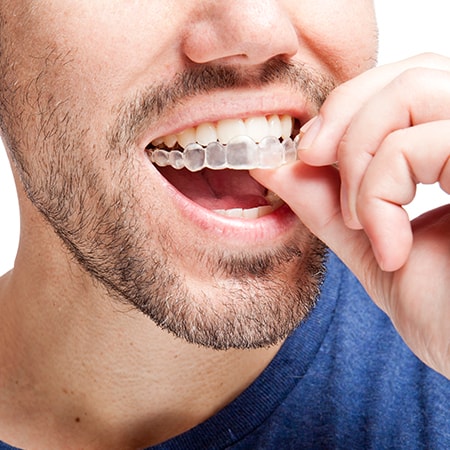 How Invisalign Works
Invisalign is known as a type of aligner therapy because, well, the treatment all revolves around a series of aligners. These aligners look similar to teeth whitening trays or clear retainers. You'll get custom-made aligners that are designed to shift your teeth a small, specific amount with each set until you get to your picture-perfect smile. You just wear each set for around two weeks and then move on to the next pair. You can think of it as the aligners pushing your teeth into proper alignment using controlled force compared to the pulling motion that happens with braces technology.
Invisalign FAQ
We're guessing you probably have a few more questions about the ins and outs of Invisalign and why so many patients prefer it to conventional braces. We've rounded up some of the most frequently asked questions to give you a better idea of what to expect.
What's So Great About Invisalign?
There are so many advantages to choosing Invisalign! For starters, the aligners are made from clear plastic so they're nearly invisible when you wear them. You don't have to feel self-conscious that you're undergoing orthodontic treatment!
Another big benefit is that they're totally removable. That means you can pop them out to eat and drink, so there's no worrying about food restrictions. It also means you can take them out briefly for special occasions like say, a photo shoot at a wedding.
Does Invisalign Treatment Hurt?
You may experience some initial discomfort or pressure when putting in a new aligner but this goes away in a short amount of time. All that means is that your aligners are working to move your teeth!
Many patients actual find that Invisalign is a more comfortable process than braces because its smooth, plastic aligners are gentler on the gums and cheeks compared to metal brackets and wires.
How Often Do I Have to Wear My Aligners?
Invisalign aligners should be worn at least 20 to 22 hours a day. Basically, it's best to keep them on at all times except when you're eating or cleaning your teeth. Wearing them for this amount of time each day makes sure that your treatment plan stays on course.
How Do I Clean My Aligners?
Invisalign makes cleaning tablets you can use, but really, all you have to do is brush and rinse them in lukewarm water to clean them. Just be sure you do so after every meal and before you put them back on so you don't end up trapping food or bacteria between your aligners and teeth.
How Long Will My Invisalign Treatment Take?
It's all on a case-by-case basis. We have to see how complex your treatment will be and what your smile goals are to give you an accurate estimate. Generally, Invisalign treatment lasts between 9 and 18 months.
Wait! I have more questions!
Don't worry! That's what we're here for. You can call or email our office and we'd be happy to answer whatever questions you still have about Invisalign.