Root Canal Treatment in Forney, TX
One of the main causes of severe or sudden tooth pain is an infection in the roots of your tooth.
Root canal therapy is a way to remove the damaged pulp while saving and preserving your natural tooth. While root canals may sound scary, they're actually a common procedure and nothing to fear. Dr. Merchant is experienced in endodontic treatments and can restore your tooth back to health.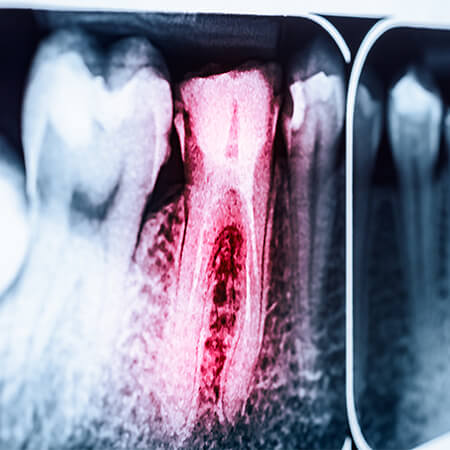 The Root Canal Procedure
The root canal procedure is straightforward. We start by numbing the area around your tooth and administering one of our relaxing sedation options if you need it. We make sure you feel comfortable and at ease before we begin your root canal therapy. We then make a small hole into your tooth and remove the infected pulp from your root canal. After the inside of your tooth is disinfected and cleaned out, we seal your tooth with a crown or a filling to give it extra strength and protection.
Root Canal Treatment FAQ
We know root canals can seem intimidating. If you have any questions or concerns, read through our most frequently asked questions to learn more about what to expect.
How do I know if I need a root canal treatment?
You may be unsure about whether or not you need a root canal. We've listed some of the most common symptoms that can indicate an abscessed tooth in need root canal therapy. However, we won't know for sure until we can examine your tooth during a consultation.
– Sudden onset of tooth pain
– Swollen or tender gums
– Pain when chewing or biting down
– Appearance of a bump or sore on gums
– Tooth sensitivity to hot or cold
– Darkened teeth
What happens if I leave an infected tooth untreated?
An infected tooth can lead to more serious health concerns if left untreated. Your tooth could fall out, your jawbone could weaken, the infection could spread to other parts of your body, and more. It's best to immediately schedule an appointment with us if you are experiencing any symptoms that may be linked to a tooth infection. Once the decay reaches a certain point, we may no longer be able to perform a root canal and will have to extract the tooth.
How long does a root canal take?
The length of a root canal procedure varies based on the number, type, and condition of the tooth or teeth. It lasts anywhere from 1 to 2 hours and is usually completed in one visit.
Does root canal therapy hurt?
When it comes to root canal therapy, you don't need to worry! We numb the area around your tooth and also offer a variety of relaxing sedation options to keep you comfortable during the procedure. Let us know if you need any special accommodations before the treatment. Your comfort is our priority.
How much does a root canal cost?
Getting a root canal at LM Family Dentistry shouldn't involve breaking the bank. We strive to provide affordable financial options and payment plans so you can get the care you need that works with your budget. When you visit us for a consultation, we'll be able to give you an accurate cost estimate for your root canal based on your individual dental needs and the condition of your tooth. We look forward to helping your smile!
Wait a minute – I actually have more questions!
No problem! We would be happy to discuss the treatment with you in further detail. Call or send us an email and we'll answer your questions.