Veneers in Forney, TX
Is the shape, size, color, or spacing of your teeth bothering you? We can fix that with veneers!
Veneers can be used to correct those tiny imperfections or they can be used to create a total smile makeover — there are plenty of possibilities with this treatment! To get started on designing you dream smile, make an appointment with Dr. Merchant at LM Family Dentistry.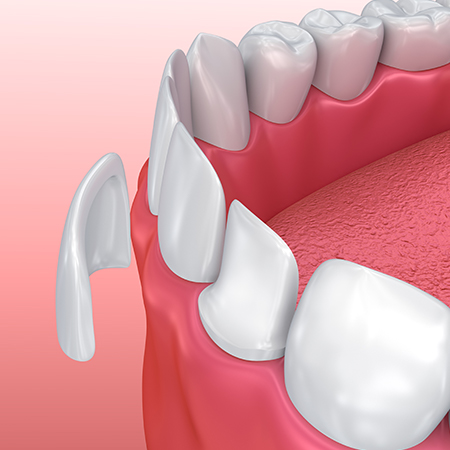 How Veneers Work
Veneers are thin, custom-made shells that we bond to the outside of your teeth to change their appearance. They're often made from either porcelain or composite resin, but either way, they're designed to have a natural tooth color. Getting veneers generally takes a couple of appointments. In the first, we prepare and shape your teeth to ensure a good fit. In the second, we bond and polish the permanent veneers. Once your procedure is complete, you can take on the day with a new and improved smile!
Veneers FAQ
We get a lot of different questions about veneers, so we've gathered some of the ones we hear the most. It's our goal to make sure you know the ins and outs of the treatment so you can move forward with confidence.
What Do Veneers Feel Like?
At LM Family Dentistry, we take great care to make sure your veneers feel natural. With this treatment, we have to remove a very small amount of your tooth enamel in order for the veneers to fit and not feel like bulky additions. If you're lengthening or shortening your teeth or filling in spaces, you'll probably notice the difference, but before long they'll feel just like your other teeth.
Who Qualifies for Veneers?
People who have chips, cracks, gaps, minor misalignment, and discoloration are all considered candidates for veneers. That being said, it's important that they have a good base oral health as well, meaning healthy teeth and gums. Really the best and easiest way to see if you qualify for the treatment is to come on in and see Dr. Merchant so she can take a look in person.
Are Veneers Reversible?
Since we have to remove that thin layer of enamel to prepare your teeth for veneers (and enamel is not replaceable), the procedure is not reversible. That's why it's so important to get them from a dentist who truly takes their time to make sure you get the beautiful, natural-looking results that you want.
When Do Veneers Need to Be Replaced?
How long veneers last really depends on how well you take care of them — same goes for your other teeth. With a good at-home dental routine and regular check-ups at the dentist, veneers should last you around 10 years. But if they're still looking and functioning great, then there is no need to just replace them because you've hit a decade.
How Much Do Veneers Cost?
We think a beautiful, confident smile is priceless, but of course, you can't talk about a cosmetic treatment without talking costs. The price of veneers really depends on your unique case since there is so much customization involved. The main factor is how many teeth are being treated. Once we get a better idea of what you want to change, we can give you your specific cost estimate. Don't worry; you'll always know the price tag before we ever get going on the treatment!
Hold on, I have more questions!
Not a problem! Our team is always here to answer whatever other questions you have. Just give us a call or send us an email and we'd be happy to talk further.