Start-to-Finish Dental Implants in Forney, TX
If you're missing multiple teeth (or even one tooth!), we offer start-to-finish implant services which means we can complete the entire implant process in-house.
Our office is fully equipped with leading-edge technology to help you regain a beautiful, fully functioning smile. Get in touch with our office to schedule and appointment and see what implants can do for you!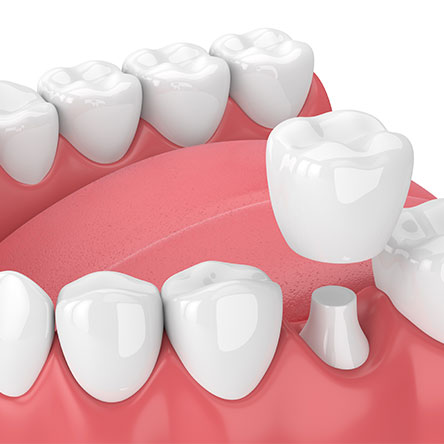 Dental Implants 101
A dental implant consists of three components: the titanium post (implant itself), the abutment (connector), and the tooth restoration. Once we assess that your jawbone is healthy and strong, we'll place the implant into your jawbone in the space left behind from your missing tooth. The implant mimics a natural tooth's root and only the top portion of the implant will be visible above the gum line. Once the implant fuses with your jawbone, we'll attach the abutment to the portion of the implant that is visible. Then, we'll connect the tooth restoration–the part of the implant that resembles a tooth—to the abutment. Depending on the number of teeth you're missing, we'll attach either a dental crown, bridge, or denture to your implant.
Dental Implant FAQ
Am I a Good Candidate For Implants?
Whether you're missing one tooth or multiple teeth, most people are great candidates for dental implants. When you visit our office for a consultation, Dr. Merchant will examine your smile, go over your dental history, and assess the health of your jawbone. Once a full in-person examination is complete, we'll have a better idea if dental implants are the right tooth replacement option for you.
What Are the Benefits of Dental Implants?
Dental implants are a popular method of tooth replacement for patients and dentists alike, and for good reason. Their benefits include:
– They look, feel and function similar to natural teeth.
– They are easy to maintain. You can eat, brush and floss like normal.
– They preserve facial shape and prevent your cheeks from looking sunken.
– They can last a lifetime if they're properly cared for.
How Much Do Dental Implants Cost?
The cost of dental implants varies. Certain factors such as your oral health, the number of teeth you're missing, and the tooth restoration you'll need factor into the overall cost of the procedure. After your consultation, we'll be able to provide you with an accurate cost estimate based on your needs and go over our financial options to help you fit a full, youthful smile into your budget!
Are Dental Implants Painful?
Thanks to the use of modern sedation techniques and informed at-home care, most patients report minimal pain during and after the procedure. After the procedure, we usually recommend over-the-counter painkillers to combat any discomfort or bruising. This discomfort generally only lasts for a short period of time, and most patients are able to return to their normal lifestyle within 1-3 days.
What's the Difference Between a Dental Implant & a Bridge?
While dental implants and dental bridges are both popular tooth replacement options, tooth implants are a more durable, permanent solution to missing teeth. Unlike bridges, which wear down and require replacement after 5-7 years, an implant is expected to last over 25 years if properly cared for. To learn more about the differences and see which option is right for you, schedule a consultation today.
Hold on! I have a few more questions regarding dental implants.
That's perfectly fine! Please call our office and one of our team members would be happy to answer them or schedule you in for an in-person consultation.